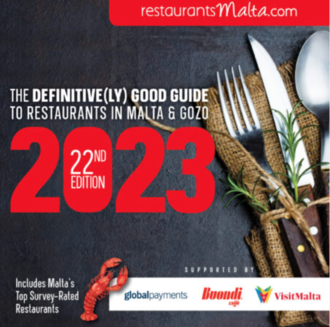 Once you purchase the guide at only 8 Euro a copy you will find two 5 Euro vouchers inside to use at those restaurants that participate in the voucher scheme.
Those restaurants that have the below icon on their webpage are the ones in which you can present your 2 vouchers and get 5 Euro off your meal.

Terms and Conditions:
Vouchers in The Definitive(ly) Good Guide to Restaurants 2023 are valid from December 2022 until October 31, 2023. Only one €5 voucher can be used per table booked (for a minimum of two people) and a minimum of €24 spent. No photocopies or any other kind of reproduction of the voucher will be accepted.
The vouchers may not be used in conjunction with any other promotional scheme.
The vouchers are redeemable against a pre-booked meal for a minimum of two people. For a voucher to be redeemable, the customer must mention at the time of booking his or her intent to use the voucher.
The €5 is to be deducted from the final bill inclusive of VAT (and, if applicable, service), with the participating restaurant bearing the cost of the €5 discount. Participating establishments, which are highlighted in the pages of The Definitive(ly) Good Guide to Restaurants 2023 by a symbol of * at the top of the page, may exclude certain times of day, certain days of the week, or specific menus from the scheme, as long as they
(a) advise customers of the restrictions at the time of booking, and
(b) accept the vouchers at a minimum of 70% of sessions when the restaurant is open.
Participating Establishments:
AcquaBlu
Adelphi
Al sale
Barbajean
Bistro 516
Brookies
Capo Crudo
Country Terrace Elba
Galea's Kitchen
Garam Masalaa
Gate of India
Gracy's Arts and Supper Club
Haywharf restaurant and Club House
Hungry Hippie Il-Kartell
Le majoliche
Le Regatta
L'Orangerie Bistro
Lovage Bistro
Marea
Neolitik
Onda Blu
Qbajjar
Rendez-Vous
Rossopomodoro
Sciaccia Grill
Smugglers
Step 15
T'Annamari
Ta' Marija
Ta' Tona
Tal-Familja
Temptasian
Tex Mex South
The Aft Gallery
The Golden Fork
The Sixth Leaf
Two Buoys
Sepia